By JP Moses | Category: Featured, Under The Spotlight
So I've been asked if I can provide some insight into Jack Bosch's Land Profit Generator training material — which is basically an enhanced, more robust version of the Land Profit Formula he originally released about a year ago.
The Course – 5 modules that Jack Bosch put together on Flipping Land for Real Estate Investors.

The Concept – Find people who don't want their land anymore buy it for $100 to $2000 (he personally found thousands of them and bought and sold over 5,531 properties in 7 years) and then Flip it and sell it at Market value (or wholesale) within days.
Always eager to help in the earnest pursuit of quality REI continuing education, I emailed Jack personally about it.  And since I get a lot out of short little case studies, I asked for a real world student of his I could interview privately.  I also told him he's not allowed to be there or prep him/her in advance, because I wanted frank answers and didn't intend to pull any punches.
Jack's response…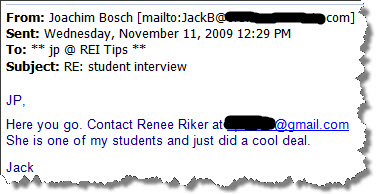 So here you go!  You can read all the questions I grilled her with below.  Anyone currently sizing up Jack's offering will be glad you invested a few short minutes eavesdropping in on my little chat with Reneé…
Investor Profile: Reneé Riker, Southern CA
Audio clip: Adobe Flash Player (version 9 or above) is required to play this audio clip. Download the latest version here. You also need to have JavaScript enabled in your browser.
Occupation: Full time in Regulatory Compliance, and part time as a Real Estate Investor based in Greater L.A. area
Experience: Focused on out of state rentals for 5 years, then got tired of tenants, toilets and termites and discovered land flipping.
Reneé: "For me it's always been about the cash flow as I want that passive income like everyone else!"
Recent Deal: Paid $27k for 6 parcels (53 acres) in the desert, then quickly sold first 2 of 6 lots for $60k by themselves.
Familiar Story: Has purchased "many costly real estate training courses" in the past, only to discover what she DIDN'T want to do.
On Jack: Has first hand experience in using Jack's land profit formula system and says it, "opened a whole new world to the meaning of real estate investing" for her.
Questions Asked and Candidly Answered:
"Can you describe the land flipping model as you've applied it yourself?"
"For vacant land, the due diligence process seems more intimidating to me than for houses…what's the process been like for you personally?"
"How about a bird's eye view of your first land flip deal?"
"Do you prefer selling your land deals for all cash vs. cash flow?"
"Being completely honest, what do you feel are the strengths and weaknesses of Jack's land flipping training?  What sets it apart from the rest, and how could it be improved?"
"Was there anything missing from the training material that you honestly wish had been included?"
"Who is this model / material is ideally suited for?"
"With a basic knowledge of real estate in place, what learning curve might someone expect with Jack's material?"
"What personal advice would you have for anyone who's trying to size this model and Jack's material up for themselves right now?"
Find Out More About Jack's Land Profits System
from HowToFlipLand.com…
GD Star Rating
loading...